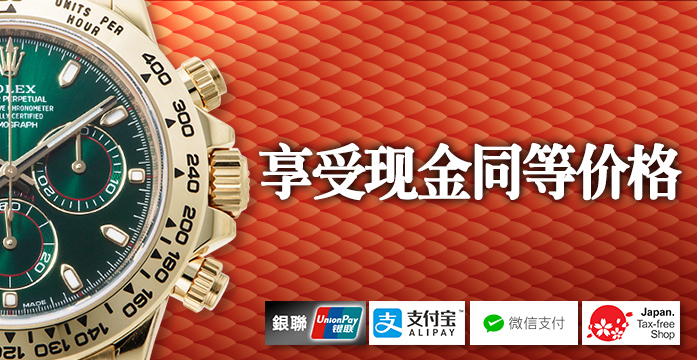 Important Points when Shopping with Us or Using Our Website
Overseas customers wishing to make purchases with us should be aware that the only available method is to visit our store directly. We are unable to process online orders from overseas or to send goods abroad.
We do not accept remittances from abroad. Please use a Japanese bank to transfer payment.
The methods of payment we accept include cash (Japanese yen only), credit card (Visa/Mastercard only), UnionPay and Alipay.
The prices and sale prices specified on our website and in our store are for purchases made in cash (Japanese yen). Purchases using UnionPay or Alipay may be made for the same price as cash purchases. However, please be aware that the price for credit card purchases may differ slightly.
International customers have the option of placing an item on hold for up to three days. Customers who contact us after arriving in Japan may only place items on hold for one day only (the same day you contact us). For customers who wish to place an item on hold for longer, we require a 10% deposit of the total price, allowing for a maximum holding period of two weeks (deposits not accepted through remittances from abroad; please pay in cash). Please be aware that cancellation or refund requests regarding deposits for items on hold will not be accepted.
Although new items which are supplied with an International Warranty form will be covered by a warranty from the manufacturer, used items, new items supplied without a warranty form and items whose period of warranty has expired will not be covered. We ask for your understanding in advance that in some cases the goods can not be insured in China. Please purchase after understanding the contents. (ex IWC , OMEGA , CARTIER)
We are doing everything we can to respond to queries made by e-mail and SNS.Depending on the time frame you contact us in, or the language in which we receive your message, we may not be able to respond. We appreciate your understanding.
Important Points When Making Duty-Free Purchases
Duty-free purchases may only be made at our store.
ustomers willing to make a duty-free purchase should be sure to bring their own, valid passport with them at the time of purchase.
Duty-free purchases are available only to those with Temporary Visitor status, not to individuals who have visas to live or work in Japan.